Hi everyone!!!
I apologize for being MIA! I have had a terrible flu!
I have never been so sick in my life.
Get your flu shots!!!
We are studying history of photography in school right now and it is my favorite.
I wanted to share the first women photographer with you, Julia Margaret Cameron. I love her work.
She is known for soft focus. My favorite as well.
Here is some of her work and little history.
I am in photography school 5 hours every Saturday.
I will continue the program next semester. I love it. I am almost done with this semester.
I am going to teach you in future post about studio lighting and portraits!
Photography
In 1863, when Cameron was 48 years old, her daughter gave her a camera as a present, thereby starting her career as a photographer. Within a year, Cameron became a member of the Photographic Societies of London and Scotland. In her photography, Cameron strove to capture beauty. She wrote, "I longed to arrest all the beauty that came before me and at length the longing has been satisfied."[4]
"Annie, my first success", 29 January 1864. Cameron's first print she was satisfied with
The basic techniques of soft-focus "fancy portraits", which she later developed, were taught to her by David Wilkie Wynfield. She later wrote that "to my feeling about his beautiful photography I owed all my attempts and indeed consequently all my success".[5]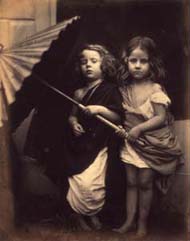 Alfred Lord Tennyson, her neighbour on the Isle of Wight, often brought friends to see the photographer.
Cameron was sometimes obsessive about her new occupation, with subjects sitting for countless exposures in the blinding light as she laboriously coated, exposed, and processed each wet plate. The results were, in fact, unconventional in their intimacy and their particular visual habit of created blur through both long exposures, where the subject moved and by leaving the lens intentionally out of focus. This led some of her contemporaries to complain and even ridicule the work, but her friends and family were supportive, and she was one of the most prolific and advanced of amateurs in her time. Her enthusiasm for her craft meant that her children and others sometimes tired of her endless photographing, but it also means that we are left with some of the best of records of her children and of the many notable figures of the time who visited her.
Here is one of her maids!  She was also known for making everyone seem equal.
Royalty or not.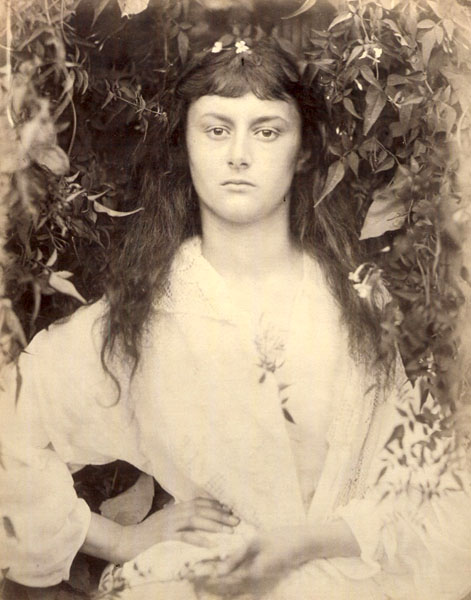 During her career, Cameron registered each of her photographs with the copyright office and kept detailed records. Her shrewd business sense is one reason that so many of her works survive today. Another reason that many of Cameron's portraits are significant is because they are often the only existing photograph of historical figures. Many paintings and drawings exist, but, at the time, photography was still a new and challenging medium for someone outside a typical portrait studio.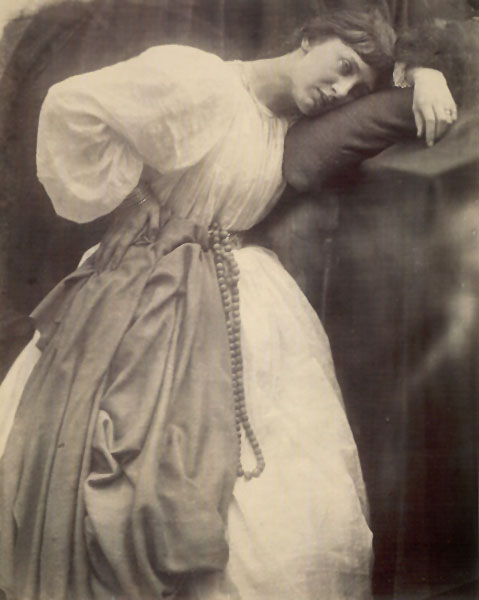 The bulk of Cameron's photographs fit into two categories – closely framed portraits and illustrative allegories based on religious and literary works. In the allegorical works in particular, her artistic influence was clearly Pre-Raphaelite, with far-away looks and limp poses and soft lighting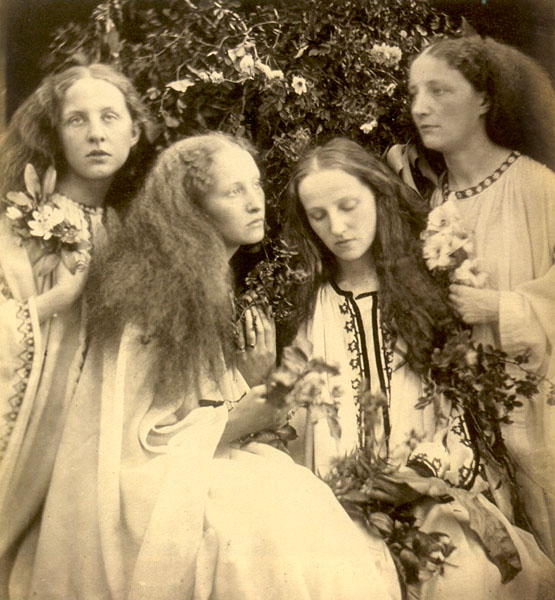 Marriage
Cameron was educated in France, but returned to India, and in 1838 married Charles Hay Cameron, a jurist and member of the Law Commission stationed in Calcutta, who was twenty years her senior. In 1848, Charles Hay Cameron retired, and the family moved to London, England. Cameron's sister, Sarah Prinsep, had been living in London and hosted a salon at Little Holland House, the dower house of Holland House in Kensington, where famous artists and writers regularly visited. In 1860, Cameron visited the estate of poet Alfred Lord Tennyson on the Isle of Wight. Julia was taken with the location, and the Cameron family purchased a property on the island soon after. They called it Dimbola Lodge after the family's Ceylon estate.
I will also be catching up on all my post and visiting everyone!
My pal Maria from Dreamy Whites and I have been talking a ton of photography shop lately.
I have purchased Florabella Collection and Elements 8 photo shop. 
Can't wait to show you what I have done.
I have some fun announcements coming up too.
Please bare with me as my son and I are still a little sick.
Have a wonderful nite!
Always,